This is an archived article and the information in the article may be outdated. Please look at the time stamp on the story to see when it was last updated.
A security guard who fatally shot a suspected shoplifter at a Hollywood Walgreens pharmacy earlier this month has been charged with murder, the Los Angeles County District Attorney's Office announced Monday.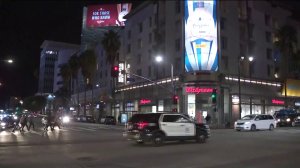 Donald Vincent Ciota II, 28, also faces an allegation of using a firearm as a deadly weapon.
The incident unfolded at the heavily-trafficked store at the intersection of Sunset Boulevard and Vine Street on Dec. 2. Ciota allegedly confronted Jonathan Hart and the two got into a fight, prosecutors allege.
Ciota then pulled out his gun and fatally shot Hart in the back as he ran away, officials said.
Hart, who was described as being homeless, was unarmed.
Ciota was scheduled to be arraigned Monday, but it was continued to Thursday. His bail has been set at $3 million.
He faces 50 years to life in prison if convicted as charged.
At a vigil earlier this month, loved ones told KTLA that Hart had intended to pay for his items.
The victim's mother, Psychesia Hart, is a security guard herself and sharply criticized the guard's handling of the situation.
A friend said the guard's actions were wrong regardless of whether Hart was shoplifting or not.
Hart's family intends to file a $525 million lawsuit against Walgreens, alleging that he was profiled because he was homeless, harassed because he was gay and shot because he was black, their attorney has said.
The family's attorney, Carl Douglas, said Friday that the announcement of the charges against Ciota brought "mixed emotions."
He said this past Christmas was the first holiday Hart's twin sister and parents have spent without him.
"We are heartened that justice will be on the way, but now we must turn to responsibility of Walgreens, because the death of Jonathan Hart has left blood on the hands of executives of Walgreens as well."
The security company involved in the "tragic incident" has since been fired, according to statement from Walgreens.
"We have cooperated with authorities and will continue to support their prosecution of this case," reads the statement issued to KTLA by a company spokesperson. "We are fully committed to providing a safe environment for our employees, patients and customers in the communities we serve."
Douglas has encouraged people to continue boycotting Walgreens until more stores get rid of armed guards. He said he has since visited the Hollywood store and that the guards there are no longer armed.
"That is why we say we're going to use the spirit of Jonathan Hart to make America safe again," the attorney said.