This is an archived article and the information in the article may be outdated. Please look at the time stamp on the story to see when it was last updated.
An overseas tip about an imminent bombing of the Red Line's Universal City station has forced federal and local law enforcement in Los Angeles to swiftly ramp up security across its sprawling transit system, authorities said Monday.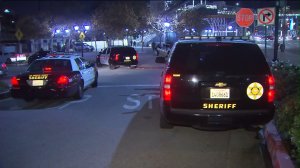 The tipster, an anonymous man, warned of a potential attack on Tuesday and provided the information on a tip line abroad, according to Deidre Fike, the assistant director in charge of the FBI's office in Los Angeles. Fike declined to specify which country fielded the tip but said it was delivered in English.
In a hastily called news conference Monday night, the FBI as well as the Los Angeles-area law enforcement leaders said the threat was considered specific and imminent, but investigators were still examining its credibility.
"This could be real, it could be a hoax," said Los Angeles County Sheriff Jim McDonnell. "We're asking the public to stay calm and vigilant."
Click here to read the full story on LATimes.com.