This is an archived article and the information in the article may be outdated. Please look at the time stamp on the story to see when it was last updated.
Investigators released surveillance video Friday in hopes of generating clues to identify the driver in a deadly hit-and-run in the West Adams neighborhood last week.
Kenneth Lamont Loggins, 63, died following the 7 p.m. collision on West Adams Boulevard at Burnside Avenue, Los Angeles County Department of Medical Examiner-Coroner spokeswoman Sarah Ardalani said. He was listed in coroner's records as transient.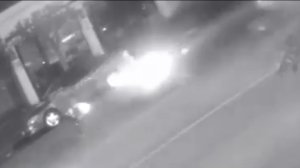 He was crossing the road when he was hit by a medium- or full-size sedan, which sped off without stopping to help, the Los Angeles Police Department said in a written statement.
A second car then struck Loggins as he lied in the roadway, police said. The driver of that car stopped at the scene and cooperated with authorities.
A standing $25,000 reward is offered by the city of Los Angeles for information leading to the capture and conviction of drivers involved in fatal hit-and-runs.
Anyone with information is urged to contact the LAPD's South Traffic Division detectives during business hours at 323-421-2500. After hours, tipsters can call the LAPD at 877-527-3247.