This is an archived article and the information in the article may be outdated. Please look at the time stamp on the story to see when it was last updated.
The recovery of narcotics from a trash can in the lobby of a Los Angeles jail led to authorities to arrest a suspect who had an additional stash of more than $30,000 worth of drugs ready to be distributed in local prisons, officials said Tuesday.
Deputies at the Twin Towers Correctional Facility in Chinatown discovered heroin and marijuana in the public lobby's garbage can on Sept. 10, sparking the investigation, the L.A. County Sheriff's Department said in a news release.
Detectives from the department's Jail Task Force were then assigned to the case and identified a suspect. Authorities said they are not releasing the person's name due to the nature of the ongoing investigation.
After conducting surveillance, authorities tied the suspect to two residences in the East L.A. area. Search warrants were served at both locations on Sunday.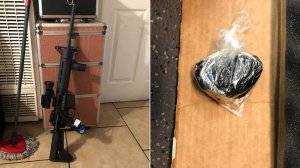 At the first residence, deputies arrested a separate suspect in connection with an unregistered, modified assault rifle that was found there, the Sheriff's Department said.
That person had previously been arrested on suspicion of felony gun violations, officials said, but that person's name was not being released either.
About 52 grams of black tar heroin were found during a search of the second home, where the identified suspect was also located and arrested, authorities said.
Sheriff's officials believe the heroin was packaged in preparation of delivery at county jail facilities.
Detectives are continuing to investigate the case.