This is an archived article and the information in the article may be outdated. Please look at the time stamp on the story to see when it was last updated.
The Sepulveda Basin was closed, while a stretch of the 101 Freeway near Ventura was partially shut down, amid flooding caused by a storm that left Southern California drenched on Tuesday.
In the San Fernando Valley, the Sepulveda Basin was closed around 10:10 a.m. as intense rain fell swiftly in the area, according to the Los Angeles Fire Department.
The closure encompassed three points: Burbank Boulevard and the 405 Freeway; Burbank Boulevard and Hayvenhurst Avenue; and Woodley Avenue and Victory Boulevard.
It was not immediately clear how long the area would be shut down.
A partially flooded street in the area of Burbank near Balboa Boulevard — not far from the Sepulveda Basin — left at least one vehicle stranded in the roadway, video from the scene showed.
The driver was able to evacuate the car, a Mini Cooper, through the window. He got on the hood of the car before jumping into the knee-deep water and wading safely to the side, according to the footage.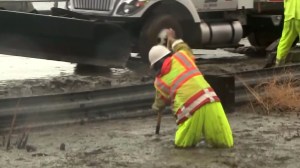 In Ventura County, all southbound lanes of the 101 Freeway near the city of Ventura had to be closed when lanes became inundated with at least 3-feet of floodwater, the California Highway Patrol's incident log stated shortly after 9 a.m.
The coastal stretch, near Sea Cliff, was close to the area where the Solimar Fire burned more than 1,200 acres less than two weeks ago.
One lane was reopened at Dulah around 11:45 a.m., but by then, traffic in the area was jammed, according to CHP. By 1 p.m., the entire southbound stretch was reopened.
"Please take caution when driving through the area and slow down in the rainy conditions," CHP cautioned.
The National Weather Service issued a flash flood warning in the Solimar Fire burn area that was in effect Tuesday from 9:30 a.m. to 12:30 p.m.
The flooding came as the strongest in a series of El Niño-related storms went through the region on Tuesday, bringing much-needed rain across drought-stricken California.
Motorists are encouraged to avoid driving through floodwater.