This is an archived article and the information in the article may be outdated. Please look at the time stamp on the story to see when it was last updated.
Ten students at Venice High School were arrested Friday, and four other minors were being sought for a series of alleged sexual assaults involving two female victims, according to the Los Angeles Police Department.
A possible sexual assault was reported on Tuesday by school officials to the LAPD's Special Assault Section, LAPD Cmdr. Andrew Smith said at a news conference.
Investigators found 14 male students, between 14 and 17 years old, were believed to have sexually assaulted two female Venice High School students on and off campus several times, Smith said.
They were expected to be charged with unlawful sex with minors and forced oral copulation.
"Some of these were forced sexual acts, sexual assaults. Others were consensual with individuals who are too young to give consent," Smith said.
Eight people were arrested at the campus, located at 13000 Venice Blvd. (map), and a ninth person was arrested off campus on Friday morning, he said. All were transported to the Pacific-area police station.
A 10th student turned himself in to police later in the day, the LAPD said in a tweet.
Two students identified those arrested as football players.
Officials were working on detaining four additional minors.
"We are working on rounding up more students whose names we have," Smith said.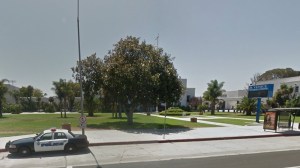 The group of male students were working together to pressure girls into having sex, and allegedly made verbal threats regarding the girls' reputations, an anonymous source in the school district told the Los Angeles Times.
The alleged assaults dated back to December 2013, an LAPD news release stated. Smith said most of the incidents occurred in the past two months.
During the initial investigation, detectives found photographs of students engaging in sexual activities and at least one circulated on social media, the Times reported.
School district officials were "cooperating fully with the ongoing investigation," they stated in a news release.
"This is a painful moment for Venice High School, and this district.  I want you to know that no sexual misconduct of any kind by students or staff will ever be tolerated," Los Angeles Unified School District officials stated.
Crisis counselors were expected to be at the campus Friday to help distressed students.
Another school was initially said to be involved, but LAPD later stated that was not the case.
Anyone with information was asked to contact LAPD officials at 213-473-0447 between 6:30 a.m. and 3 p.m. on weekdays. Calls during nonbusiness hours could be made to 877-LAPD(5273)-24-7.
Anonymous information could be made by calling 800-222-8477, LAPD stated.
More video;