This is an archived article and the information in the article may be outdated. Please look at the time stamp on the story to see when it was last updated.
Five juveniles were arrested after a family selling flowers along the street in South Los Angeles was assaulted by would-be thieves Wednesday afternoon, prompting one of the vendors to stab an attacker in self defense, police said.
The incident occurred near the intersection of Imperial Highway and Central Avenue, on the border of Green Meadows and Watts, shortly before 4 p.m., Los Angeles Police Officer Drake Madison said.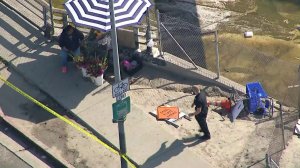 The Flores family, who has consistently sold flowers at the intersection for more than 20 years, said a struggle broke out after they asked a group of 10 young men collecting money for an allegedly fake funeral to move elsewhere.
Arturo Flores, who was operating the stand with his mother and sister Lucia, said that caused the group to become aggressive.
They demanded the family hand over their cash and threatened their lives, according to Lucia.
"They said, 'You guys better give your money because I could go bring my people to kill you guys,'" she told KTLA.
When their mother refused to turn over their earnings, the aggressors allegedly began attacking the family.
"They hit us with rocks, sticks," Lucia said. "I defended myself with a white stick."
But she said her 18-year-old brother bore the brunt of the assault because he was sticking up for their family.
"They were right there messing with my mom so I needed some defense," Arturo explained. "I started hitting them back, so they all started hitting me."
After one attacker began wielding a large metal pole, Arturo grabbed the knife he uses to cut flowers and stabbed him.
Arturo suffered a swollen arm and busted lip in the struggle.
Although the family escaped the attack with only minor injuries, the business still suffered monetary damage, according to Arturo.
"We're not that good because they even broke our flowers, and they're the ones that started everything," he said.
The would-be thief who was stabbed was taken to a nearby hospital, where he was in stable condition, LAPD's Drake said.
That person was also placed under arrest, along with four other individuals ages 12 to 15. Their names were not being released due to their age.
Another five individuals between the ages of 15 and 20 are still being sought by police. Authorities did not release suspect descriptions Wednesday night.
KTLA's Nidia Becerra contributed to this report.