This is an archived article and the information in the article may be outdated. Please look at the time stamp on the story to see when it was last updated.
Eleven dogs were found dead and some 30 others neglected at a Riverside County property where an animal cruelty investigation was being conducted Wednesday, authorities said.
The property near La Sierra Avenue south of the 91 Freeway — in the unincorporated area between Riverside and Lake Mathews — was being investigated by officers, according to John Walsh, a spokesman for the Riverside County Department of Animal Services.
The owner of the property, who is possibly a breeder, is not at the location, Walsh said.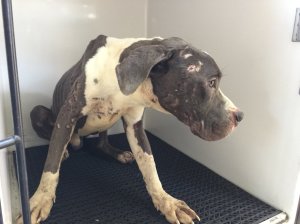 About 30 dogs were found thin and neglected. At least 11 were dead, Walsh said.
Walsh tweeted a photo showing an animal control officer giving water to an emaciated dog whose spine and ribs were visible through its coat. Another officer wore a mask and had a hand to her mouth.
Two other photos showed the filthy interior of the property, with two dog crates visible.
Some of the dogs were so weak, they had to be carried by rescuers, Walsh said.
The dogs were transported to the San Jacinto Valley Animal Campus where they were examined and receiving treatment, according to Welsh, who added that none of the dogs were available for adoption.
Officer Will Luna provides some water to neglected dog; #breaking #cruelty investigation near La Sierra area. pic.twitter.com/Sfqrx7L7Zv

— RivCO animalSERVICES (@helpinRIVcoPETS) July 20, 2016
This is what it looks like inside. Approx 30 dogs. #animalcruelty investigation #breaking pic.twitter.com/lOefiySrCg

— RivCO animalSERVICES (@helpinRIVcoPETS) July 20, 2016
Breaking: animal cruelty investigation; neglected dogs, some dead; unincorporated La Sierra area, south of Hwy 91 pic.twitter.com/O03lhpolKh

— RivCO animalSERVICES (@helpinRIVcoPETS) July 20, 2016
KTLA's Kennedy Ryan contributed to this story.