This is an archived article and the information in the article may be outdated. Please look at the time stamp on the story to see when it was last updated.
More than three dozen people were injured Tuesday morning after a vacuum truck exploded at a wastewater disposal facility in the Santa Paula area, prompting evacuations and road closures in the surrounding area.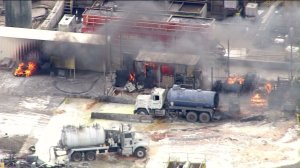 The explosion occurred about 3:46 a.m. in the 800 block of Mission Rock Road (map), about half a mile southeast of the 126 Freeway, officials from the Ventura County Sheriff's Office and Fire Department said.
"It sounded like a car was coming through my house," said Mike Morin, who cares for dogs at a nearby animal rescue.
The truck had been spraying a combustible white liquid at the time of the incident, fire Capt. Mike Lindbery confirmed to KTLA. The explosion spread the hazardous material around in a 300-foot radius, he said.
Two workers at the scene, three firefighters and an ambulance driver were hospitalized with unknown injuries, according to Sheila Murphy, a county spokeswoman. Twelve others were being held for observation, she said.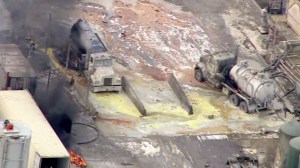 Lindbery later said 37 people had been injured, mostly with minor injuries.
The three firefighters' boots had "spontaneously combusted" when they came in contact with the white liquid from the vacuum truck, said Rick Macklin of the Ventura County Fire Department.
The compounds appeared to be sulfuric acid and an organic peroxide, according to Dr. Robert Levin, Ventura County Public Health's medical director.
The owner of Santa Clara Waste Water Co., where the explosion occurred, said the business was established in 1959 and never had a major problem such as Tuesday's. The plant only takes nonhazardous waste, owner Doug Edwards said.
"This is unheard of, that's why we're so taken aback," Edwards said.
The truck that blew up was delivering industrial waste, he said.
Aerial footage showed firefighters working to extinguish several small spot fires that were still burning at the facility as of 10 a.m.
The blaze was being allowed to burn out on its own into the night. Authorities hoped to begin an investigation into the cause of the explosion by 8 p.m.
Fire officials did not want to spray water on the blaze because they were afraid chemicals would run into the nearby Santa Clara River.
Mandatory evacuations were ordered for all residents within 1 mile of 815 Mission Rock Road, authorities said. A shelter-in-place order was issued for residents within 2 to 3 miles of that location. A Red Cross shelter was open at 530 West Main Street (map).
Mission Rock Road was closed to all traffic until further notice. For several hours, a 6-mile stretch of Highway 126 was closed in both directions between Wells and Peck roads (map).
Briggs and Olivelands elementary school were closed as a result of the incident.
The cause of the explosion, which occurred about 50 miles west-northwest of downtown Los Angeles, was not immediately known.
Updates on road closures, evacuation orders and shelters were available online at vcemergency.com. The sheriff's Office of Emergency Services set up a hotline for the incident at 805-465-6650.
More Videos: