This is an archived article and the information in the article may be outdated. Please look at the time stamp on the story to see when it was last updated.
A woman was killed and five people were injured after a large tree fell on a wedding party that was taking photos at a Whittier park Saturday evening, according to the Los Angeles County Fire Department.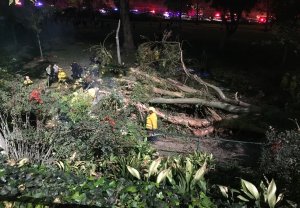 The incident was reported about 4:30 p.m. at Penn Park, 13950 Penn St.
One witness said the tree split in two and landed on several people.
Witnesses told KTLA the wedding party was taking photos when the eucalyptus tree came crashing down. People who were attending a nearby party came rushing over to help.
Some victims were able to free themselves or with help from others, but six people had to be cut out by responding firefighters, officials said.
One of those victims, described as an older woman, died on her way to the hospital, according to the Fire Department. Her age and identity have not been released.
Another victim, a 4-year-old girl, is in critical condition and received head trauma, according to the Whittier Police Department. The rest of the victims suffered minor injuries and were taken to area hospitals.
Video from the scene showed firefighters using chainsaws to cut branches under mobile lights.
Several search dogs were being used to make sure no other victims were left trapped underneath the debris.
About 100 firefighters responded to the incident, the Los Angeles Times reported.
The tree appears to be about 60 feet tall. A neighbor told KTLA that a similar tree fell in the area in the last year.
The park, which had been busy before the incident, was closed during the clean-up and investigation.
Anahi Vazquez was taking photos with her family when the tree came down.
"We just heard something crack, like, really hard, and people were yelling," she said.
Vazquez added that a baby girl was stuck under the rubble and Vazquez's uncle tried to pull her out.
Witness Gilbert Duran said on Facebook that he was attending a quinceañera party in the park when the tree fell.
He said he and some friends were under the tree taking photographs shortly before it fell, but moved to a different location for better light.
That's when the wedding party moved under the tree, he said.
"We walk away and five minutes later this thing collapses on a whole wedding party," he said on a video on Facebook.
" I just seen a bunch of kids, little kids … they were running for their life and this thing just fell on top of them. I watched them go flat."
City officials will work to determine what caused the tree to fall.
UPDATE: #PennIC CD Richardson onscene assessing the incident. 6 total patients at this time. Sadly 1 patient deceased.

— L.A. County Fire Department (@LACoFDPIO) December 18, 2016
#PennIC #Whittier large tree fell on wedding party. Many patients injured. Fire dept onscene assessing the situation and treating people

— L.A. County Fire Department (@LACoFDPIO) December 18, 2016
Tree fell on ppl at Penn park #penn #whittier #LACoFD @WhittierNews pic.twitter.com/K7DUdiCX57

— :) (@iCbass7) December 18, 2016
CNN Wire contributed to this story.