This is an archived article and the information in the article may be outdated. Please look at the time stamp on the story to see when it was last updated.
The 15 Freeway has been reopened through the Cajon Pass after a 19-vehicle crash left potentially dozens of people injured on a foggy Wednesday morning, officials said.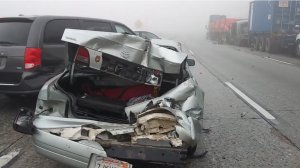 The pileup occurred along the southbound 15 Freeway south of Oak Hills shortly after 9 a.m., according to authorities.
Victims were triaged at the scene, and preliminary reports indicated 35 people suffered minor to moderate injuries, according to the San Bernardino County Fire Department.
The majority of patients declined to be transported, the Fire Department said. It was unclear how many were taken to hospitals for treatment.
The 15 Freeway was shut down in both directions at Oak Hills in the immediate aftermath of the crash, according to Caltrans, which tweeted a photo showing a major traffic backup in the area.
The southbound 15 Freeway remained closed south of Oak Hills an hour later as emergency personnel worked to clear the wreck.
All lanes were reopened around noon.
It is unclear what exactly caused the crash, but weather was a contributing a factor, according to the Fire Department. Video from the scene showed there was dense fog in the area at the time.
Among the vehicles involved were FedEx delivery trucks and big rigs. Many of the vehicles suffered extensive damage, according to the footage.
A fog advisory is in effect on the 15 Freeway through the Cajon Pass, Caltrans reported around 10:15 a.m.
A series of winter storms has drenched Southern California with rain this week, though there was a lull in stormy weather when the multivehicle collision took place.
Another round of rain is expected to begin in the Southland on Wednesday afternoon.
Motorists traveling through the Cajon Pass should expect delays because of the inclement weather and traffic from the earlier incident.
Update #1 with Live View: SBCO: SB I-15 south of Oak Hill Rd in Hesperia. Multi collision blocking all lanes. Unknown duration. #Caltrans8 pic.twitter.com/xB86fFVoPc

— Caltrans District 8 (@Caltrans8) January 16, 2019