This is an archived article and the information in the article may be outdated. Please look at the time stamp on the story to see when it was last updated.
Seven people were injured — two of them left in serious condition — when an L.A. Metro bus collided with an SUV in downtown Los Angeles during the early morning hours of Wednesday, according to authorities.
The crash happened at about 1:30 a.m. near Broadway and Olympic Boulevard when authorities suspect one of the drivers ran a red light, authorities said. However, authorities have not said which driver ran the light or caused the accident.
Over the course of the crash, the bus struck and toppled a street light before going out onto the sidewalk, a Los Angeles County Fire Department alert said. The crash also damaged a building at the scene, denting the metal bars of its exterior, as seen in footage of the crash.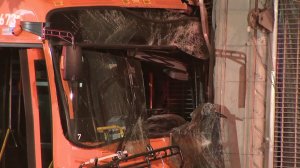 Two people, including the driver of the SUV and one of the people on the bus, were in serious condition after the crash although their injuries were not considered life-threatening, fire officials said.
Officials said just six people were on the bus at the time and five of them were in "fair condition" after the crash. However, all seven people involved in the crash were injured at least somewhat, as LAPD officials told the Los Angeles Times.
The front windshield on the bus was smashed in, with the glass shattered and mangled parts of the front end hanging off the vehicle, as seen in footage of the scene of the crash. The SUV's front end was also smashed and a nearby street pole was knocked over, apparently by the bus, as seen in crash footage.
Jesus Rincon, who was inside the building at the time of the crash, said people were not allowed to enter the building after the incident as officials from the Occupational Safety and Health Administration were expected to arrive later.
A red flyer from OSHA could be seen on the building, and the agency is expected to inspect the building's structural integrity before anyone can go back inside.