This is an archived article and the information in the article may be outdated. Please look at the time stamp on the story to see when it was last updated.
Police in Redondo Beach were looking Wednesday for possible victims of a 27-year-old registered sex offender accused of having sex with a 15-year-old girl he met through an Internet website.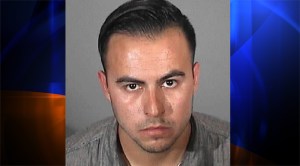 Hugo Gonzalez, of Harbor City, was convicted in 2011 of having sex with a 14-year-old girl he befriended on Myspace, according to a news release from the Redondo Beach Police Department.
In the current case, Gonzalez was accused of meeting two 15-year-old girls on MeetMe.com and using the "KIK" smartphone application to converse them, the release stated.
Prosecutors said Gonzalez eventually met with the girls, gave them alcohol and had sex with one of the minors.
In both cases, Gonzalez used alias with the minors.
A picture Gonzalez sent to the minors in the Redondo Beach case, assisted detectives in identifying him, the release stated.
The Los Angeles County District Attorney's office filed seven felony counts against Gonzalez and two misdemeanor counts of furnishing alcohol to minors.
Gonzalez was being held at the L.A. County Jail on $245,000 bail.
Anyone with information on Gonzales was asked to contact Detective Clint Daniel at 310-379-2477 ext. 2480