This is an archived article and the information in the article may be outdated. Please look at the time stamp on the story to see when it was last updated.
A registered sex offender was arrested after allegedly taking cellphone video of a 10-year-old girl as she used the restroom inside a Walmart store in unincorporated El Cajon, the San Diego County Sheriff's Department said Tuesday.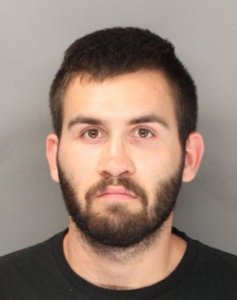 The young victim told deputies a man followed her into the women's bathroom last Wednesday at the Walmart located at 13487 Camino Canada, a sheriff's news release stated.
He then went into the stall next to her, took out his cellphone and used it to record her as he made lewd comments, the girl said, according to the release.
The suspect, identified by the Sheriff's Department as 21-year-old Robert Becker, left before deputies arrived.
Investigators looked through the store's surveillance video to identify him; Becker was arrested Monday at his Alpine home in the 4000 block of Alpine Boulevard, according to the release.
His previous offense was described as possessing and controlling obscene matter depicting a minor in sexual conduct, according to his entry on the Megan's Law website. The victims were under the age of 12 and authorities found more than 600 images.
In the latest case, he faced charges of attempted lewd and lascivious acts on a minor, annoying or molesting a child with a prior conviction and disorderly lewd conduct.
Becker possibly committed similar crimes in East County, prompting authorities to look for additional victims. Anyone with information about the case, and those who believe they have been victimized by Becker, are urged to call the department at 858-974-2417.
Anonymous tips can also be left through Crime Stoppers by dialing 888-580-8477.