This is an archived article and the information in the article may be outdated. Please look at the time stamp on the story to see when it was last updated.
A convicted sex offender who led authorities on a pursuit across Kern and Los Angeles counties earlier this week has been captured in Barstow, the Los Angeles County Sheriff's Department said Thursday.
Stephen Houk, 46, a convicted sex offender who authorities previously said was armed, was caught without incident in a rail car at about 4:30 p.m., Deputy Robinson said.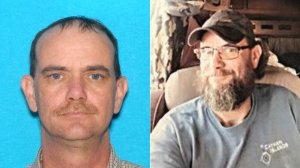 When he led deputies on a chase Tuesday, he had his two children with him as he fled in a motor home beginning in the Mid-City area of L.A., officials said.
The children, who were 3 years old and 11 months old, were rescued when the pursuit ended.
Earlier that same day, Houk's wife had told officers he pointed a revolver at her face and said he had been physically violent with her and the children, according to the Los Angeles Times.
Officials said the 46-year-old was on parole for a sex offense and was wanted for evasion, child abduction, child endangerment and weapons violations. Authorities told the Times that Houk, who is registered as a sex offender in Oregon, had been on the run for two years.
"They made their way from Oregon, through Arizona and had been hanging out in Malibu and the Calabasas area, camping the night before," L.A. County Sheriff's Department Capt. Eddie Hernandez told the Times.
The chase on Tuesday had crossed into North Hollywood before leading into Kern County and finally ending in Shafter. Video of the scene around 6:30 p.m. shows the motor home stopped but Houk was still able to go on the run before being captured on Thursday.