This is an archived article and the information in the article may be outdated. Please look at the time stamp on the story to see when it was last updated.
East Coast favorite Shake Shack made its California debut Tuesday morning in West Hollywood.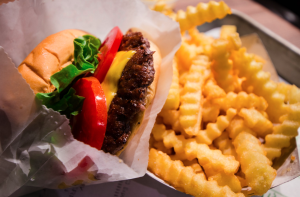 "We're stoked to finally join California's one-of-a-kind burger culture," said Shake Shack CEO Randy Garutti. "We've heard from fans across L.A. for years, and we're humbled by the passionate response we've received so far. We invite all Angelenos to come out and see what makes Shake Shack so special."
Known as a modern-day "roadside" burger stand with a cult-like following, the beloved burger joint offers Angus beef burgers, chicken, a vegetarian portobello burger, flat-top dogs, frozen custard and crinkle cut fries, according to a news release announcing the opening.
Shake Shack's classic offerings, along with a few L.A.-only choices, were made available to those willing to face long lines at the West Hollywood location — located at the corner of Santa Monica Boulevard and West Knoll Drive.
More than 50 people were spotted eagerly anticipating an early lunch when the restaurant first opened at 11 a.m., and the line continued to grow from there.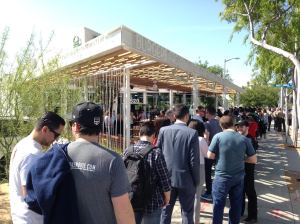 It was unclear if Shake Shack's parking lot was able to accommodate Tuesday's crowds, but a dedicated lot is available east of the restaurant off Santa Monica Boulevard, the Los Angeles Times reported.
The chain made its debut in Madison Square Park in New York City, and has since expanded across the U.S. and into other countries.
Two other California locations are now slated to open — including one in Glendale later this year, and one in downtown L.A. in 2017.
In addition to favorites found at other Shake Shacks, the West Hollywood location will offer the LA-Only Roadside Double — a double Swiss cheeseburger topped with Dijon mustard and onions simmered in bacon and beer.
And those with a sweet tooth will be able to enjoy frozen custard made in part from local favorites, including Larder Baking Company, Sqirl and Compartes.
Alcohol being offered includes Shake-Shack's exclusive Shack Red and Shack White wines from California's Frog's Leap Winery and ShackMeister Ale from Brooklyn Brewery, along with other local craft beers.
And in sticking to its mission to "stand for something good," 5 percent of proceeds from the Rainbow Connection dessert will be donated to one of West Hollywood's most well-known events — LAPride, which the food location identifies as advocating for human rights, education, and equality for the lesbian, gay, bisexual and transgender community.
An abstract mural by local artist Kim West also helps the new location celebrate "the ongoing art culture of West Hollywood," and architecture by Michael Hsu Office of Architecture features dramatic overhangs, exaggerated horizontal and angular lines, as well as a patio shaded by wooden slats that aim to give the feel of sitting under a tree.