This is an archived article and the information in the article may be outdated. Please look at the time stamp on the story to see when it was last updated.
A teen boy was attacked by a shark off Beacon's Beach in Encinitas Saturday morning, witnesses told KTLA sister station KSWB in San Diego.
Calls came in about the attack around 7 a.m., the San Diego County Sheriff's Department confirmed. Deputies were at the scene assisting lifeguards and Encinitas fire officials.
At a news conference, authorities identified the victim as a 13-year-old boy. He sustained traumatic injuries in the upper torso, officials said.
A witness who knew the victim told KSWB he was a young teen on a lobster diving trip. Photos from the scene showed lifeguards treating the boy on the beach before transferring him to a helicopter to be taken to the hospital.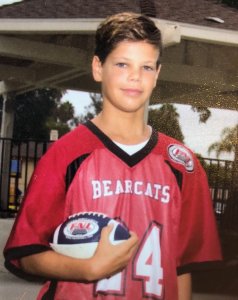 Chad Hammel, who was out with a group of friends diving for lobster, helped rescue the boy and bring him to safety on their kayak. Hammel said his group had been out diving for about a half hour that morning when they heard screaming. At first he thought it was the excited yell of a fellow lobster diver. But then, "I realized that he was yelling, 'I got bit! I got bit!'" Hammel said.
The group paddled over to the boy and pulled him onto the kayak. They quickly realized the teen was suffering from serious bite injuries and bleeding badly. "His whole clavicle was ripped open," Hammel said. " We told him he's going to be okay, he's going to be alright — we got help. I yelled at everyone to get out of the water: 'There's a shark in the water!'"
As the group paddled to shore, Hammel turned around to a terrifying sight: "Once we threw him up on the kayak and started heading in, that's when I looked back, and the shark was behind the kayak. He didn't want to give up yet."
The group of friends — some of whom had medical training — tried to keep the boy calm and put pressure on his wounds as blood filled their kayak.
People on the beach called paramedics who rushed to the scene and got the boy into a helicopter. He was airlifted to Rady Children's Hospital, where he is listed in critical condition.
Just after a shark attack victim was pulled ashore at Beacon's Beach in Leucadia. #sharkattack #beaconsbeach #leucadia #encinitas pic.twitter.com/Hr93IVxwQd

— John Robbins (@JohnRobbins) September 29, 2018