This is an archived article and the information in the article may be outdated. Please look at the time stamp on the story to see when it was last updated.
A shark sighting was confirmed in the water off Manhattan Beach pier on Thursday, about a month after a man swimming in the same area was left injured when a shark bit him.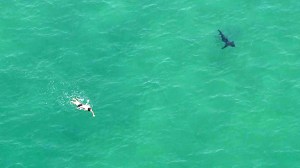 Sharks were reported in the 1100 block of The Strand between 11th Street and the pier (map), according to Inspector Rick Flores of the Los Angeles County Fire Department.
County lifeguards were told of a shark swimming near the pier about 10:30 a.m., according to a tweet from the Lifeguard Division.
A lifeguard on a personal watercraft investigated, as did a Baywatch Redondo rescue boat, confirming the sighting to be a juvenile white shark that was 7 feet long, another Lifeguard Division tweet stated.
The shark was monitored for 45 minutes and determined not to be aggressive or a threat, so no advisories to the public were made, according to the division.
Such sightings are common, the division said.
It's very common to see juvenile white sharks off the Southern CA coast. The juvenile sharks we have observed have been very docile.

— LACoFD Lifeguards (@LACoLifeguards) August 14, 2014
Four to five creatures that resembled sharks could be seen in the water several blocks south of the pier, aerial video from Sky5 showed.
Just before noon, a swimmer could be seen within feet of one of the apparent sharks, but the two never made contact, according to video from Sky5.
The city implemented a fishing ban on the pier July 7, in response to swimmer Steve Robles being bitten by a shark near the pier two days earlier.
The City Council on Tuesday voted to implement new fishing regulations; the temporary ban was set to remain in place for two additional weeks, the Daily Breeze reported.
Editor's Note: This story has been updated to clarify which county lifeguard vessels responded to the shark sighting.
More video: