This is an archived article and the information in the article may be outdated. Please look at the time stamp on the story to see when it was last updated.
While California's other major dam has been the focus on national attention, the Shasta Dam was making history itself this week.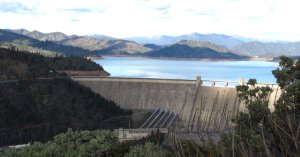 For the first time in almost two decades, water was released Wednesday from the top most gates of the dam impounding Lake Shasta, California's largest reservoir, marking another milestone in what is shaping up to be the state's wettest year on record.
The release lasted only 15 minutes and was only a test to confirm that the gates were functioning properly in case they need to be used at a later time, according to the U.S. Bureau of Reclamation. The gates operated as expected, the bureau's spokesman Louis Moore said.
With the reservoir at 135 percent of its historical average for this time of year and nearly 93 percent of its capacity, dam engineers were releasing billions of gallons of water to make room for incoming flows from the surrounding foothills and Sierra Nevada, according to the bureau.
Click here to read the full story on LATimes.com.