This is an archived article and the information in the article may be outdated. Please look at the time stamp on the story to see when it was last updated.
Los Angeles Clippers co-owner Shelly Sterling is mounting a hurried sale of the team she and her husband have owned for 33 years and could name a prospective new owner of the NBA franchise by the end of the week, a person familiar with the situation said.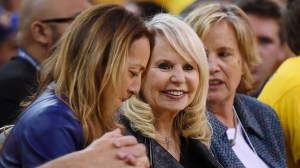 Sterling is rushing to sell the team long headed by her husband, Donald, in an attempt to beat a deadline of next Tuesday, when owners of the 30 pro basketball teams will be asked to strip control of the team from both of the Sterlings, after Donald Sterling's racially-charged remarks about blacks.
The developments in the NBA's biggest ownership crisis came on the same day that a defiant Sterling lashed out at what he called the league's "illegal termination process." In a cover letter to the 29-page document, obtained by The Times, Sterling said he had already received offers "in excess of $2.5 billion" for his team. In his response, he criticized the NBA for insisting on his ouster for what he deemed a single illegally-recorded conversation of what he deemed "a lover's quarrel."
The series of events suggested a potentially quick resolution to a controversy that appeared as if it might drag on for months or more, though people familiar with the situation cautioned that the sale is far from complete and must be approved by the NBA's other owners.
Click here to read the full story at LATimes.com.