This is an archived article and the information in the article may be outdated. Please look at the time stamp on the story to see when it was last updated.
For Sheriff Lee Baca, it was a legacy moment. He was on Capitol Hill, testifying before a congressional hearing on the radicalization of American Muslims. Conservative lawmakers were grilling him, pressing him to acknowledge that the Muslim groups he embraced after 9/11 may have had criminal elements.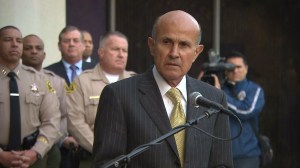 Baca wasn't having it. "We don't play around with criminals in my world," he shot back.
With dozens of cameras trained on him, the sheriff made the case that American Muslims were being unfairly persecuted and should be treated as partners, not suspects, in the fight against terror.
The tense exchange in 2011 made national news, burnishing Baca's image as a lawman who bucked law enforcement stereotypes and embraced a softer side of policing. Back in Southern California, a different narrative was playing out in his department.
Click here to read the full story on LATimes.com.