This is an archived article and the information in the article may be outdated. Please look at the time stamp on the story to see when it was last updated.
Sheriff's officials are asking for the public's help in identifying a man who was allegedly trying to get a girl's attention and motion her over to his vehicle while she was walking to school in Rosemead.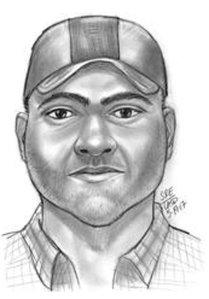 The incident happened in the early morning hours in the area of Rio Hondo Avenue and Guess Street, the Los Angeles County Sheriff's Department said in a released statement on Tuesday. The girl was approached by a man who was in a dark-colored truck with a small dog inside.
"The male unsuccessfully attempted several times to get the girl's attention by motioning for her to come over to his vehicle," the sheriff's department said in the statement.
The man was described as hispanic, between the ages of 30 and 40. His vehicle was described as a dark-colored, 4-door truck.
Anyone with information, or who recognizes the man in the sketch, is asked to call Detective Juan Rivera at 626-285-7171.