This is an archived article and the information in the article may be outdated. Please look at the time stamp on the story to see when it was last updated.
The driver of a black Mercedes-Benz was in custody Thursday night after leading authorities on a slow-moving chase that started in Compton and ended in a standoff in Anaheim Hills.
The chase began in the Compton area where the driver was wanted on suspicion of attempted murder, according to Sgt. Lio with the Los Angeles County Sheriff's Department.
The driver led officers eastbound on the 91 Freeway into Orange County at a fairly slow rate of speed, aerial video of the chase showed.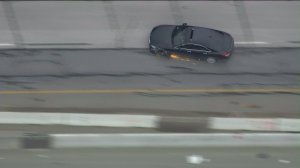 The driver hit significant traffic as he moved into the Anaheim Hills area where all eastbound lanes were backed up due to an unrelated crash up ahead, the video showed.
The driver managed to get through the traffic jam and had an open freeway ahead of him.
As the driver approached the Green River exit, he ran over a spike strip that blew out his front tires, aerial video showed.
The car bounced off the center divider several times as the driver tried to regain control, the video showed.
He finally came to a stop on the shoulder of the freeway but refused to exit the vehicle.
SWAT units with the Anaheim Police Department arrived shortly and began trying to negotiate with the driver.
After about 30 minutes, SWAT officers broke out the back window of the car and used tear gas to flush out the driver.
As the driver exited the car, he was immediately grabbed by a police K-9 who latched onto his arm.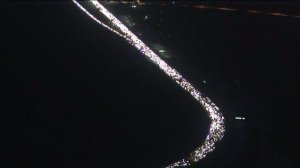 The man sustained a bite on his left arm, according to Anaheim police Sgt. Daron Wyatt.
He was taken into custody by L.A. County Sheriff's deputies.
The unidentified driver was being sought for allegedly assaulting another person with a gun on May 2 in the 9600 block of Miramonte Boulevard in South Los Angeles, according to LASD Lt. Dan Holguin.
The freeway was reopened around 10:30 p.m.