This is an archived article and the information in the article may be outdated. Please look at the time stamp on the story to see when it was last updated.
Two Los Angeles County Sheriff's deputies rescued a couple in their late 80s from a burning home in San Gabriel over the weekend, officials said Monday
Deputies Jacqueline Morales and Orlando Macias were patrolling the area separately about 2 p.m. Saturday when they noticed smoke billowing from a home in the 8800 block of East Broadway.
They stopped their vehicles and had to crawl inside the house on their hands and knees to avoid the smoke, officials said.
They first encountered an 87-year-old man who appeared to be disoriented and were able to get him out of the house safely, Macias said.
After going into the home a second time, Macias said he couldn't handle the smoke and had to get some fresh air outside. He went back in and eventually the two spotted an 89-year-old woman with a walker and tried to help walk out of the home before deciding to carry her out.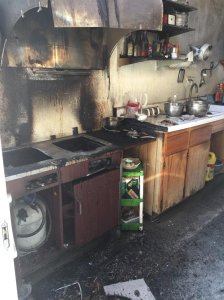 "We dragged her out through the front porch," Macias described.
He said he went back the house again to see if there was anyone else inside the home when firefighters from the Los Angeles County and San Gabriel fire departments responded and put out the grease fire in the kitchen.
The victims and the deputies were taken to a hospital and treated for smoke inhalation.
"The deputies' heroism is a reflection of their dedication to the communities served by Temple Station, and the representation of the core values of the Los Angeles County Sheriff's Department to the highest degree," officials said in a news release.
Morales attributed the rescue to being  at "the right place at the right time."