This is an archived article and the information in the article may be outdated. Please look at the time stamp on the story to see when it was last updated.
Sheriff's deputies confirmed Saturday they had shot and killed a man allegedly armed with a gun in Lancaster and were searching for a second man.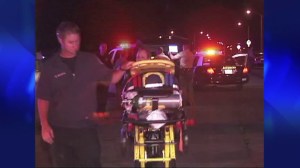 Deputies shot the man around 11:35 p.m. Friday in the 3100 block of West Avenue K4 (map), according to Los Angeles County Sheriff's Department officials who said the wrong address had been stated in an initial news release.
Very few details about what led up to the shooting were initially offered, but sheriff's deputies later said detectives with the department's gang unit had stopped two men.
One of the men then allegedly took a semi-automatic assault pistol out from under his jacket and was subsequently shot in the upper torso by sheriff's deputies.
The man, only identified as Hispanic, was pronounced dead at the scene.
The second man ran away, across a dirt field and out of view, deputies said.
A containment area was established near the incident location as they searched for the second man, but streets appeared to have reopened by the morning.
The shooting occurred about a block away from Antelope Valley College (map).
No sheriff's deputies were injured in the incident.
The incident was the second time officials shot and killed an allegedly armed man in L.A. County Friday night, with police saying they also fatally shot a man in West Covina.
Anyone with information about the Lancaster incident was asked to contact the Sheriff's Department at 323-890-5500.