This is an archived article and the information in the article may be outdated. Please look at the time stamp on the story to see when it was last updated.
The deputy who was
shot in the head
while off duty at an Alhambra Jack in the Box has died, Los Angeles County Sheriff's Department officials said Wednesday.
Deputy Joseph Gilbert Solano, a 13-year veteran with the department, was hospitalized in critical condition for three days before being taken off life support, authorities said. Solano was standing by the counter inside the restaurant on West Valley Boulevard on Monday when a gunman came up from behind him and shot him in the head, sheriff's officials said. Rhett Mckenzie Nelson, a  30-year-old Utah man, was
arrested
the next day in connection with the  seemingly random shooting, according to the Sheriff's Department. Solano's family and friends stood before members of the media Wednesday as Sheriff Alex Villanueva announced the deputy's death. "This is a moment that I dreaded, and it happened sooner than I thought," Sheriff Villanueva said. "On a good day, we could do heroic things, and save lives and avoid death… other times, something as innocent as going into a fast food restaurant could be the end of watch for deputy Solano."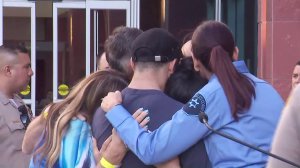 Villanueva described teary-eyed deputies lining the hall outside Solano's hospital room in the moments before his passing. The sheriff said the fallen deputy was a "kind-hearted and generous family man" and called the shooting "brazen." Solano's family remembered him as a giving, hard-working man with a great sense of humor and an infectious smile. The deputy's son, Mathew Solano, thanked law enforcement agencies, and those who prayed for his father. "We have lost him," the grieving son said, fighting tears. "He was a really good dad." The fallen deputy's stepdaughter, Jessica Jimenez, urged the crowd not to forget Solano. "Not only did I lose a father figure, but a best friend," Jimenez said. "All I ask is just don't forget about him. He was a hard-working man and was loved by many." Solano's longtime girlfriend, Julianna Loza, thanked the hospital staff for trying to save the deputy's life after the "senseless" shooting. "Although the outcome was not what we wished it to be, we have solace knowing that he's in a better place now," Loza said.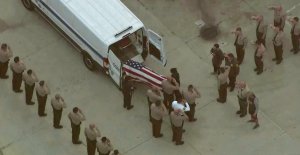 A procession for the slain deputy followed the announcement of his death. Sky5 was overhead as deputies accompanied Solano's body from the hospital to the coroner's office. "It's not goodbye, it's see you later partner," the Sheriff's Department said in a
tweet
with a photo showing uniformed deputies standing in a line, waiting for Solano's hearse. A motive for the shooting is still unknown. Nelson is being held without bail, booking records show.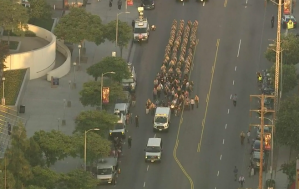 Sheriff Villanueva said the deputy was alerted at the restaurant that someone was following him, and that's when he turned around to confront the gunman. "He confronted a threat not knowing what it was and – in a split second – he lost his life," Villanueva said. "That's what it is in law enforcement." The sheriff said Nelson is the sole suspect in the deputy's killing and that investigators believe no one else was involved. Nelson is also suspected to be involved in another shooting in downtown Los Angeles an hour before the Alhambra incident, according to the Los Angeles Police Department. That shooting left a 30-year-old dead on Seventh Place near Seventh and Mateo streets, authorities said. "It's an astonishing volume of violent crime in such a short period of time," Villanueva said.
Family, #LASD Deputies, hospital colleagues and friends paying their respects to fallen Deputy Joseph Gilbert Solano. It's not goodbye, it's see you later partner. Godspeed 💫 pic.twitter.com/wKfneJsDzQ

— LA County Sheriffs (@LASDHQ) June 13, 2019
#LASD Deputies marching in formation as fallen Deputy Solano arrives to the LA Coroner's office. pic.twitter.com/pGSjObJSqL

— LA County Sheriffs (@LASDHQ) June 13, 2019