This is an archived article and the information in the article may be outdated. Please look at the time stamp on the story to see when it was last updated.
Authorities found a man suspected of shooting a sheriff's deputy in the Central Valley after a statewide manhunt, authorities said.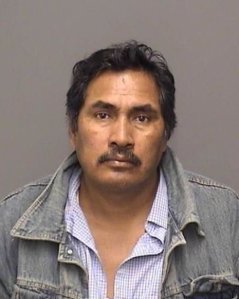 Merced County Sheriff's Office deputies were involved in a shooting with Guadalupe Herrera-Lopez, 51, in the Dos Palos area when he shot one deputy and fled the scene Wednesday, the Sheriff's Office said.
The deputy sustained injuries that were not life-threatening and was taken to a local hospital, authorities said.
Herrera-Lopez was found by 12:50 p.m. Thursday, California Highway Patrol said.
CHP issued a Blue Alert in an attempt to find the suspected shooter, who stands at about 5 feet, 7 inches tall and weighs about 160 pounds.  Herrera-Lopez has brown eyes, long brown hair and a mustache, and was last seen wearing a black shirt and dark jeans, according to CHP's alert.
He was last seen driving a white 2013 GMC Sierra Crew Cab with a California license plate 25599H1.
Herrera-Lopez was considered armed and dangerous, and could be in possession of a semi-automatic handgun, CHP said.
Authorities did not provide information on what led to the shootout with deputies.
The Merced Sun-Star reported that deputies were responding to a report of domestic abuse at a home where Herrera-Lopez was hiding when he fired at arriving deputies.
It's unclear where Herrera-Lopez was found Thursday.
Anyone with information was asked to call the Merced County Sheriff's Office at 209-385-7445.
https://twitter.com/CHPAlerts/status/1169491889835261952
MERCED COUNTY SHERIFF'S DEPUTY SHOT. Deputies searchin for this suspect: Guadalupe Lopez-Herrera, seen driving a White 2013 GMC Sierra Crew Cab, CA. License # 25599H1. If you have any information regarding this crime or vehicle please call the Merced Sheriff at 209-385-7445. pic.twitter.com/7L6hlkjs11

— Merced County Sheriff's Office (@MercedSheriff) September 5, 2019