This is an archived article and the information in the article may be outdated. Please look at the time stamp on the story to see when it was last updated.
Authorities are investigating after a sheriff's deputy was involved in a traffic collision with another car in Duarte on Friday.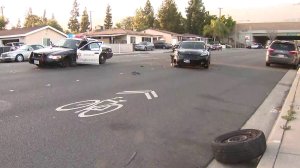 The crash occurred as both vehicles were traveling south on Buena Vista Street, just south of the 210 Freeway, around 4:50 p.m., the Los Angeles County Sheriff's Department said in a news release.
The deputy was responding to a call for service when a civilian's vehicle collided with the patrol car, according to the Sheriff's Department.
The deputy was transported to a nearby hospital for treatment. While the sheriff's news release described his condition as serious, a public information officer at the scene said he was in fair condition.
The driver of the other car, a man, was treated at the scene and released, officials said.
Neither party has been identified.
The cause of the crash was under investigation, and no further details were available.
Buena Vista Street between Evergreen Street and Duarte Road would be closed for the duration of the investigation.
Anyone who witnessed the incident can contact sheriff's detectives at 626-285-7171. Anonymous tips can be submitted via 800-222-8477 or via LACrimeStoppers.org.
Buena Vista St just s/o Evergreen St #Duarte traffic Collision, dep trans to Hosp fair condition, civilian driver treated at scene & released. Investigation underway. Buena Vista St Btwn Evergreen St & Duarte Rd CLOSED till further notice. pic.twitter.com/hmiiLQUqO1

— Deputy Juanita (@LASDJUANITA) April 21, 2018