This is an archived article and the information in the article may be outdated. Please look at the time stamp on the story to see when it was last updated.
Sheriff's deputies working to recover a stolen piece of construction equipment in Jurupa Valley also recovered a dog stolen from a family two years ago, and animal control officials reunited them over the weekend, authorities said.
Deputies tracked a stolen John Deere tractor valued at $80,000 to an undeveloped plot of land along 58th Street in Jurupa Valley on Friday, the Riverside County Sheriff's Department said in a written statement.
But they also noticed a dog chained to a large concrete block. Something didn't seem quite right, so the deputies called Riverside County Department of Animal Services officials to investigate.
A scan revealed that the Great Dane has been microchipped, so animal control officials contacted the listed owner, animal services officials said in prepared statement.
"The owner of the dog told us the dog had been stolen two years earlier," Animal Control Officer Christopher Peck said. "She said her daughter had never forgotten about the family pet and had been praying, tossing coins into fountains and wishing upon every shooting star that their pet would one day return home."
That day was Saturday, when Adam Hagan and Makala Farin, who has since moved from Jurupa Valley to Lake Elsinore, picked up Sadie at a shelter.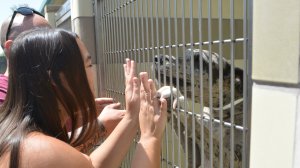 "As soon as I walked back there, she looked at us through the cage and jumped on it and was just wagging all over the place," Hagan said.
The couple said they surprised their 5-year-old daughter with the reunion, which happened on her 5th birthday.