This is an archived article and the information in the article may be outdated. Please look at the time stamp on the story to see when it was last updated.
Officials from the Lakewood Los Angeles County Sheriff's Department station helped a single mother get hearing aids that she was not able to purchase.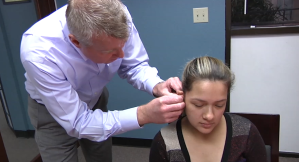 Melissa Escobedo often had to borrow a hearing aid from her mother so she could attend school functions for her children and do other day-to-day things. She and other members of her family suffer from a hereditary hearing disorder that causes a complete loss of hearing.
The single mother of two is expecting her third child and could not afford to get her own hearing aid.
Escobedo's neighbor, Betty Villarto, shared her story with sheriff's officials, who then reached out to the community to help purchase the hearing aid.
Dr. David DeKriek also saw social media posts about the efforts and offered to fit Escobedo with two hearing aids he donated.
Video provided by the sheriff's department shows DeKriek helping Escobedo get used to her new hearing aids.
"I am so happy," Escobedo said after being adjusted. She said she could hear other office noise that she had not been accustomed to hearing. "The typing, the writing, everything, I hear it."
"It's a whole new world. I feel like I was born again," she added.
Villarto, who was also at the fitting, told DeKriek that the donation is going to "unbelievably" change Escobedo's life.