This is an archived article and the information in the article may be outdated. Please look at the time stamp on the story to see when it was last updated.
Family and friends grieved Sunday after officials discovered the bodies of a couple who died in what was described as an apparent murder-suicide during an eight-hour barricade at a Carson home.
The couple was identified by neighbors as Roy and Lucille Wills. They had been married some 55 years and had lived in the area since the 1960s.
Friends of the couple said the husband was a veteran who took medication for an unknown mental illness.
A "suspicious circumstance call" led sheriff's officials to respond to a home in the 500 block of East Moorehaven Drive (map) around 6:30 a.m., Sheriff's Lt. Dave Coleman said.
It was unclear who reported the incident, but Coleman said a man inside the home called his son to say he had shot his mother. The son then called officials. 
"The male individual had called his son in the Palmdale, Lancaster area and made some indication that he had killed his mother. In turn, the Carson (Sheriff's) Station was notified and began the response," Coleman said.
A close friend of the son told KTLA he spoke to the man early Sunday.
"I spoke to the son earlier this morning. I couldn't talk to my friend because he's grieving," Jeffrey Davis said tearfully. "What can you tell a man who believes his mother is dead, only to come to find out they both have expired. What do you do? You can't. What can you say?"
Responding deputies exchanged words with the barricaded man when they arrived, but he remained inside the home and officials assumed command of a tactical response and asked for assistance.
Ten to 20 minutes after first responders arrived, two gunshots could be heard inside the home, Coleman said.
"Stay clear for safety. Shots fired," the Special Enforcement Bureau stated on Twitter at 9:16 a.m.
Nearby homes were evacuated as the standoff continued.
Officials tried to make contact with the man, and eventually entered the home.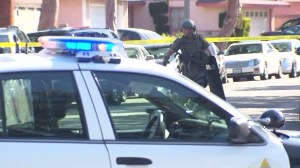 "After an extensive and constant effort lasting approximately eight hours," officials made entry into the residence and located the bodies of two adults, a sheriff's department news release stated.
Those adults were believed to be a husband, around 70 years old, and his wife, officials said.
Neighbors and loved ones were visibly distraught following the incident, video showed.
"We never in a million years thought a situation would happen like this," neighbor Antoinette Birtha said.
Sheriff's deputies, the Special Enforcement Bureau, Special Weapons Section, and Sheriff's Department's Crisis Negotiation Team responded to the situation.
Anyone with information was asked to contact the Sheriff's Department at 323-890-5500.
#LASD SWAT on scene, armed susp. 500 Blk Moorehaven Dr, Carson. Stay clear for safety. Shots fired. @LASDHQ pic.twitter.com/uisIBiKTI1

— SEB (@SEBLASD) April 12, 2015