This is an archived article and the information in the article may be outdated. Please look at the time stamp on the story to see when it was last updated.
A Sherman Oaks massage therapist was recently arrested on suspicion of felony sexual assault and detectives believe there may be additional victims, police said Monday.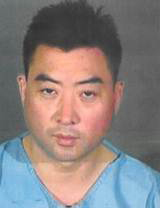 Hong Quiang Shi, also known as Steven, is accused of sexual assaulting "numerous victims" while providing massage services at Super Relax Massage in the 14400 block of Ventura Boulevard, according to an LAPD news release.
Shi was arrested on March 30. The Los Angeles County District Attorney's Office has since filed four felony counts in the case, the release stated.
Detectives said on Monday that they believe Shi may have sexually assaulted other victims who haven't spoken with police.  They are asking for the public's help in locating them.
Anyone with information about the case is asked to call Det. Mendoza of LAPD's Van Nuys Division at 818-374-1924 or 818-374-0040.
During non-business hours or on weekends, tipsters are asked to call 1-877-527-3247. Those wishing to remain anonymous should call Crime Stoppers at 1-800-222-8477.