This is an archived article and the information in the article may be outdated. Please look at the time stamp on the story to see when it was last updated.
Police were searching for a gunman Wednesday after a man was shot to death while sitting with a group of people outside an apartment building in Sylmar.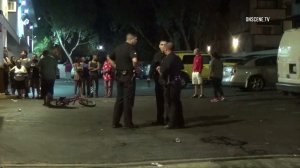 The shooting was reported about 1:40 a.m. near the intersection of Dronfield Avenue and Sayre Street, said Sgt. Jim Bender with the Los Angeles Police Department.
The gunman apparently approached a group of people sitting on a brick wall and was involved in some sort of exchange with the man who was eventually shot, said Lt. Mike Kozak with the Police Department.
Arriving officers found the wounded man, who was not identified, had been shot in the torso multiple times, Kozak said.
He was taken to a local hospital and went into surgery, but did not survive, Bender said.
The gunman was described as a Hispanic man in his late teens or early 20s. He was dressed in black shorts and a hoodie, said Kozak.
Investigators were trying to determine if the shooting was gang related.
KTLA's Stephen Acosta contributed to this report.