This is an archived article and the information in the article may be outdated. Please look at the time stamp on the story to see when it was last updated.
A member of a local motorcycle club was fatally shot during a memorial for another member of the club in Rancho Cucamonga Tuesday night, authorities said.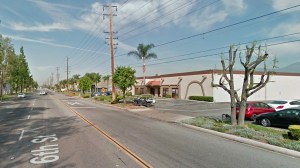 Deputies responded to a shots heard call reported in the 10000 block of 6th Street (map) at about 10:41 p.m., according to a news release from the San Bernardino County Sheriff's Department.
When they arrived, deputies found a 46-year-old man suffering from apparent gunshot wounds, the Sheriff's Department stated.
The wounded man was taken to an area hospital where he was pronounced dead.
The shooting victim, along with several members of a local motorcycle club, were at the location to attend a memorial service for a fellow member when the shooting occurred, the Sheriff's Department stated.
The member the memorial service was being held for had died from natural causes, according to Sheriff's Department spokeswoman Jodi Miller.
Investigators were still searching for the shooter, Miller said.
There was no word on what may have led to the shooting.
Anyone with information was asked to contact investigators at 909-387-3589 or Sheriff's Dispatch at 909-387-8313.
Those wishing to remain anonymous can contact the We-Tip Hotline at 1-800-78-CRIME (27463) or the We-Tip website at www.wetip.com.