This is an archived article and the information in the article may be outdated. Please look at the time stamp on the story to see when it was last updated.
Shoppers flocked to stores around Southern California Friday hoping to take advantage of "doorbuster" deals.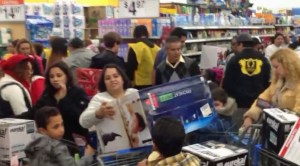 With a growing number of stores opening on Thanksgiving Day this year, many bargain hunters got an earlier start to the holiday shopping season.
Target, Walmart, Best Buy and Macy's launched their Black Friday sales on Thursday evening.
Kmart opened even earlier, at 6 a.m. on Thanksgiving Day.
Some mall managers said the earlier openings helped reduce the amount of frenzy they normally see on Black Friday.
Edward Larson, who manages a J.C. Penney in Great Falls, Mont., told CNN customers were "more purposeful and not as frenzied."
Walmart and Target reported strong Thanksgiving traffic. Bill Simon, CEO of Walmart's U.S. operations, said more than 22 million shoppers visited the company's stores on Thursday and that problems were down from previous years.
As for Black Friday sales, Kohl's reported a 258% increase over a regular day's foot traffic, according to the popular mobile app Shopular.
"We've seen probably about a 20 percent increase in traffic for the Citadel outlets this year," said Cynthia Schmitt Earls, spokeswoman for the shopping center in the city of Commerce.
JCPenney was up 240% nationwide and Walmart stores in California reported a 224% percent increase over their regular Friday foot traffic, Shopular said.
Tempers flared as a result of the larger crowds in some areas. A police officer in Rialto was injured Thursday night while attempting to break up a fight that reportedly began when someone tried to cut in front of a line of shoppers at a Walmart.
https://www.facebook.com/photo.php?fbid=10152030971989614&set=a.440942949613.222741.72391084613&type=1&theater