This is an archived article and the information in the article may be outdated. Please look at the time stamp on the story to see when it was last updated.
Four days before Black Friday, some shoppers have already lined up outside a Best Buy in Riverside as they look to score some post-Thanksgiving deals.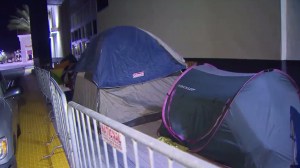 Best Buy's Black Friday deals were slated to start Thanksgiving Day, according to an ad on the retailer's website.
Stores would open at 5 p.m. Thursday, before closing 1 a.m. Friday. Doors would then re-open seven hours later, at 8 a.m.
Among the discounted items shoppers were hoping to score: a 49-inch Toshiba HD television for $149.99; a $299.99 Dell Inspiron laptop; and Apple iMac for $899.99; a $379.99 Samsung Smart TV; and a Canon PowerShot digital camera for $249.99.
Other items included select video games and blu-ray movies, according to the ad.
On Monday morning, Edgar Ruiz told KTLA he's been waiting in line outside Best Buy's Riverside location since last Wednesday with other friends. He was hoping to purchase the 49-inch Toshiba TV.
Another shopper, who identified himself as Anthony, said he was waiting for an $8 waffle maker, a blender, and possibly a television.
When asked what he had to say to those who questioned why he would stay in long so line, Anthony responded, "You know, We look kind of crazy, 'Oh, they probably don't shower,' 'They don't eat right,' or whatever. You know, come time when the doors open … they all want to be where we're at."
He added, "They're also the same people who ask us to get stuff for them."
One woman in line said the group takes turns watching each other's place when they need to go to work, or go home to shower. Anthony said the group's system has been in place for the five years that they've waited in line ahead of the Black Friday sale.
"Everybody kind of looks out for each other," he said.