This is an archived article and the information in the article may be outdated. Please look at the time stamp on the story to see when it was last updated.
A Los Angeles Police Department officer and a homicide suspect were both shot and wounded when a lengthy pursuit ended in a gunfight at a gated residential complex in Hawthorne on Thursday morning, according to LAPD Chief Charlie Beck.
The incident began at 117th Street and Avalon Boulevard, when Los Angeles police attempted to serve warrants connected to a gang-related homicide that occurred in LAPD's Southwest Division on March 31 of this year, Beck said at an early afternoon news conference.
As they attempted to serve the warrant, police became aware of one of the four homicide suspects driving away. The individual — whose name officials later gave as Qasim Knox — fled, and LAPD personnel initiated the chase, according to the chief.
The pursuit ended in the area of El Segundo and Aviation boulevards around 9:45 a.m., which is near the border of El Segundo and Hawthorne. Knox — who was armed with a handgun — got out his vehicle and tried to get away, according to Beck.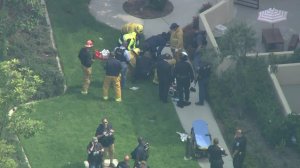 "A gunfight ensued between the individual and the pursuing officers, resulting in one of our SWAT officers being shot in the hip," he said.
During the gunbattle, Knox was struck multiple times, according to Beck. He added it was not immediately known how many shots were fired altogether.
Sky5 aerial video over the scene showed the officer and suspect down on the ground at two separate locations within a gated residential complex. Both were taken away by stretchers to waiting ambulances, the footage showed.
Detectives will also be looking at a Facebook Live video broadcast by Knox as he exchanged gun fire with police, a source familiar with the investigation told the Los Angeles Times.
The officer was initially listed in critical condition, according to the Hawthorne Police Department.
Beck, who visited the wounded officer at Harbor-UCLA Medical Center, stated at the news conference that his condition was stable.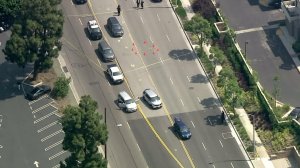 "We anticipate a full recovery on his part," Beck said.
The wounded officer's wife, who is also a Los Angeles police officer, was at her husband's side, the chief added.
Police have not yet named the officer, saying only that he has been with the department for 23 years.
Knox was undergoing surgery and last listed in serious condition.
He will be booked on suspicion of murder in connection to the March 31 homicide, and also on suspicion of attempted murder in connection to Thursday's shooting, Beck said.
A stretch of Aviation Boulevard was closed amid the ongoing investigation. Numerous first responder vehicles remained at the scene in the hours after the shooting.
Hawthorne police thanked residents of the gated 360 South Bay community where the gunfight occurred, apologizing for the inconvenience of the ongoing investigation.
KTLA's Irving Last contributed to this story.