This is an archived article and the information in the article may be outdated. Please look at the time stamp on the story to see when it was last updated.
Two masked men with assault rifles approached a Rolex store at a mall in Century City, fired off a round and told everyone to lie down before getting away with an unknown amount of merchandise on Monday, police said.
The incident occurred in the 10000 block of Santa Monica Boulevard just after noon, according to Officer Matthew Ludwig of the Los Angeles Police Department.
Officers were called to a report of an armed robbery at the luxury watch store, where shots were reported fired, LAPD Officer Drake Madison said. A shot may have been fired to get attention in the store, according to Madison.
No one appeared to be injured, Madison said.
On scene, Lt. John Jenal said a security guard inside the Rolex store saw two masked men with assault rifles approaching the store.
As the guard tried to lock the doors, one of the men fired a round inside, Jenal said.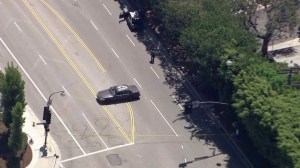 The gunman told everyone to lie down, rifled through the jewelry cases, took an unknown amount of Rolex merchandise and fled, meeting up with a third man in a car, the lieutenant said.
The car was abandoned close to the mall, on Century Park West, where the three men were believed to have hopped a wall and fled into a residential neighborhood. An older model sedan, the car had been reported stolen in South Los Angeles, Jenal said.
Residents in the area were asked to stay inside their homes during a perimeter search, which ended about 4 p.m. Police did not find the three men or any weapons, LAPD Officer Mike Lopez said.
The trio being sought were described only as black men.
Crime scene tape was erected outside the store in the Westfield Century City mall, with numerous police detectives on scene, aerial video from Sky5 showed. The store opens to an open-air plaza-type space, where some storefronts appeared to be walled off during apparent construction.
KTLA's Jennifer Thang contributed to this article.
More Video: