This is an archived article and the information in the article may be outdated. Please look at the time stamp on the story to see when it was last updated.
Southern California received some much-needed rainfall Sunday night and early Monday morning.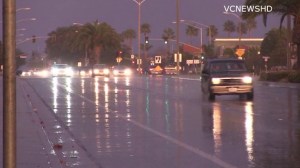 However, the scattered showers stretching from Ventura to Orange counties and beyond were not nearly enough to ease the severe drought conditions.
Downtown Los Angeles recorded 0.14 inches of rain as of 1:12 a.m., according to the National Weather Service. About 1.11 inches of rain fell in the area since July 1, 2013, compared to the normal 7.67 inches, forecasters said.
A winter weather advisory was in effect until Monday morning for the mountains in L.A. and Ventura counties because snow levels were slated to drop down to between 3,500 and 4,000 feet, the NWS reported.
As for the rest of the day Monday, a 30-percent chance of rain remained in place for the L.A. area up until 10 a.m., according to the NWS. Skies were expected to be mostly clear in the afternoon and evening hours, forecasters said.