This is an archived article and the information in the article may be outdated. Please look at the time stamp on the story to see when it was last updated.
The Sierra Nevada mountains grew nearly an inch taller during the recent drought and shrank by half an inch when water and snow returned to the area, according to new research from NASA's Jet Propulsion Laboratory in La Cañada Flintridge.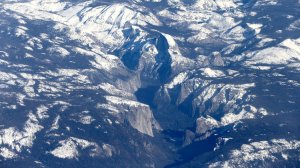 Researchers used 1,300 GPS stations throughout the mountain range to closely observe how its elevation changed during the drought. They used the differences in height to estimate that 10.8 cubic miles of water were lost from the mountains between October 2011 and October 2015, enough to supply Los Angeles with water for 45 years.
"This suggests that the solid earth has a greater capacity to store water than previously thought," said Donald Argus, a JPL research scientist.
Water sits atop solid earth like weight on a bathroom scale, Argus said. Mountains give way slightly when snow, water and other precipitation accumulate on the surface, shrinking in height. When the water is taken away, like during California's recent drought, the mountains lose water weight, and grow.
Read the full story on LATimes.com.