This is an archived article and the information in the article may be outdated. Please look at the time stamp on the story to see when it was last updated.
Customers at a restaurant in Silver Lake may have noticed something different about their checks this week.
The chef-owner of Alimento, which opened in June,  has added a separate tip line for kitchen workers in an attempt to increase the pay for back-of-house staff without raising customer's prices through surcharges or service fees, Los Angeles Magazine reported.
Zach Pollack, the popular Italian restaurant's owner, apparently came up with the idea after losing two of his best cooks to higher paying jobs, according to the magazine.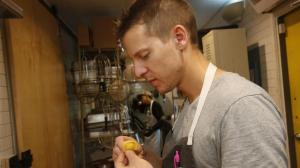 Posting an image of a receipt on his Instagram account Tuesday, Pollack wrote, "Cooks everywhere, I salute you. #butterbothsides."
The tip line could be the first of its kind in the nation, L.A. Magazine reported. The new tips would go only to dishwashers, line cooks, and prep cooks, Pollack told the magazine.
Restaurant patron Kiran Dhanireddy likes the idea.
"Sometimes the service doesn't match the quality of the food, and sometimes the food doesn't match the quality of the service," Dhanireddy said.
KTLA reporter Christina Pascucci asked viewers to respond to the move on social media and received mixed reactions.
@ChristinaKTLA @KTLAMorningNews @ktlagingerchan The owner needs to be responsible for providing adequate wages for cooks, not the public.

— Stephanie Stallaing (@smason10) December 4, 2014
@ChristinaKTLA I tip always because I like the possibility of good karma. You'd be amazed at the power of acknowledgement :-)

— Go Pack Go (@thesenormay) December 4, 2014
@ChristinaKTLA where does it stop should I tip you for doing your report.

— Kirk latham (@LathamKirk) December 4, 2014
Others suggested servers share their tips with the kitchen staff, but California labor laws only allow tips to be split with other front-of-house workers.
KTLA's Melissa Pamer contributed to this article.