This is an archived article and the information in the article may be outdated. Please look at the time stamp on the story to see when it was last updated.
About 200 firefighters on Sunday afternoon extinguished a structure fire in Silver Lake that scorched at least 8 acres of adjacent brush and prompted an hourslong closure of the 2 Freeway in both directions, according to officials.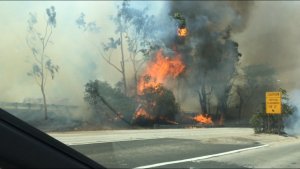 The blaze erupted about 1 p.m. in the 2200 block of Allesandro Way, where it burned at least three nonresidential structures, possibly sheds, the Los Angeles Fire Department said in a news alert.
The agency initially said a home was well-involved in flames. A subsequent statement confirmed that two residences, both on Corralitas Drive, sustained fire damage -- one on its exterior, the other in an attic.
Personnel from three fire departments -- of the city and county of Los Angeles, as well as Glendale -- attacked the flames from the air and ground, with several helicopters making water drops as massive plumes of smoke rose above the scene.
Firefighters successfully protected five homes that were threatened near the intersection of Lake View and Silver Ridge avenues, according to the LAFD, adding that the fire was knocked down within 44 minutes.
"Today I'm just the most lucky person," said Marnie Klein, whose house was left unscathed. "It was really scary."
@KTLA fire in #silverlake pic.twitter.com/jOm2we75HB

— Tiffany Sims (@tiffanysims) June 19, 2016
No one was injured in the incident, which occurred amid 100-degree temperatures, 10 percent humidity and 9 mph winds, the Fire Department said. No mandatory evacuations were ordered.
All lanes on the 2 Freeway were reopened as of 6:30 p.m.
The cause of the blaze was not immediately known.
So, the freeway at the bottom of my neighborhood appears to be on fire. pic.twitter.com/ru3TiCrKG0

— Laura J. Nelson 🦅 (@laura_nelson) June 19, 2016
#Fire SilverLake pic.twitter.com/ZUWPJ3zc4h

— PJ Byrne (@PJ_Byrne) June 19, 2016
https://twitter.com/ProvinceJournal/status/744627488396050432?ref_src=twsrc%5Etfw
just drove thru this. is it contained yet? pic.twitter.com/qHwt7HON4B

— lauren.pdf ✨✨✨ (@laurendubinsky) June 19, 2016
#SilverlakeFire pic.twitter.com/835X7bXLtj

— LAFD Talk (@LAFDtalk) June 19, 2016
In 2 min I e seen la city fire w a run on this fire about 8 times! pic.twitter.com/atSOvf3Hxc

— Ginger Chan KTLA (@ktlagingerchan) June 19, 2016
Update #BrushFire; 3:49PM; 2299 Allesandro Way; #SilverLakeFire; At least 8 acres burned. ... https://t.co/rdeWBftvbc

— LAFD (@LAFD) June 19, 2016