This is an archived article and the information in the article may be outdated. Please look at the time stamp on the story to see when it was last updated.
Three firefighters were recovering Saturday from minor injuries after the Silverado Fire in the mountains of Cleveland National Forest south of Corona broke out the previous day during possible record-breaking temperatures and reached 1,500 acres before being 10 percent contained, according to officials.
Mandatory evacuations were in place for residents living east of 30311 Silverado Canyon Road, according to a post on the federal interagency website InciWeb.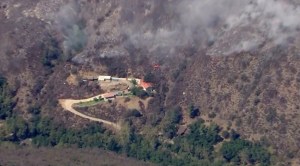 These evacuations impacted about 217 homes, the website said.
The Silverado Fire began around 11 a.m. Friday in the 30000 block of Silverado Canyon Road (map), Orange County Fire Authority officials said.
The fire had originated in someone's backyard, but the cause was still under investigation, O.C. Fire Authority spokesman Mike Petro said.
Corona Fire Department officials initially said the fire grew to 1,600 acres by 7 p.m. Friday, stopping at the intersection of Main Divide Road and Bedford Motorway (map) but continuing to grow east. The size of the fire was later revised downward to 1,500 acres.
The fire was 10 percent contained Saturday, officials said shortly after 9:30 p.m.
No structures were damaged or threatened, authorities said.
Responding personnel grew from around 280 on Friday to 826 on Saturday, Inciweb stated.
Three firefighters were hospitalized and released after suffering heat related injuries, officials said.
Road closures remained in effect Saturday for North Main Street, Indian Truck Trail, Maple Springs Truck Trail, and Bedford Canyon Road in Corona, as well as Silverado Canyon Road in Silverado.
Seventy-one Southern California Edison customers remained without power in the area due to equipment issues, the company stated shortly before 11:30 p.m.
The fast-moving fire was fueled by dry brush caused by the state's historic drought as well as high temperatures, officials said.
A high of 105 degrees Saturday and 107 degrees Sunday were expected in the Silverado Canyon area, according to the National Weather Service.
Humidity was expected to be 17 percent with winds blowing in a northwest direction at 6 to 8 mph.
A "reception center" was opened at El Modena High School, 3920 E. Spring St. in Orange (map), for residents who were not able to return home due to the fire.
Cal Fire was assisting the U.S. Forest Service and O.C. Fire Authority in battling the brush fire.
KTLA's John A. Moreno contributed to this report.
 More Video: