This is an archived article and the information in the article may be outdated. Please look at the time stamp on the story to see when it was last updated.
A Simi Valley police officer came to the aid of a woman who was in labor at a 76 gas station and helped deliver her baby, police said Sunday.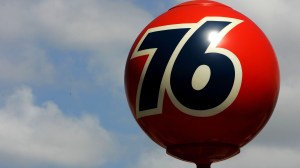 The woman was headed to Kaiser Hospital around 2 p.m. Saturday afternoon when she realized she would not make it there in time, according to a Simi Valley Police Department news release. She called 911 and pulled into the 76 station near Stearns Street and Bernard Street.
Dispatcher Anna May alerted police after she learned that the mother was "pushing," the release stated.
Senior Officer Kyle Crocker and his Explorer Scout ride-a-long were sent to the station to assist the woman, according to the release.
Crocker tried to wait for paramedics to arrive, but when it became clear the baby would not wait, he positioned the woman so she could give birth inside the vehicle.
Within minutes, baby Ariel entered the world, officials said. Crocker provided aid to the newborn by unwrapping the umbilical cord from around her neck, ensuring she could breathe. He then wrapped Ariel in a blanket to keep her warm until paramedics arrived.
No further details were provided.