This is an archived article and the information in the article may be outdated. Please look at the time stamp on the story to see when it was last updated.
Singer Janelle Monáe and several of her music labelmates performed Friday at a Hollywood protest against police violence.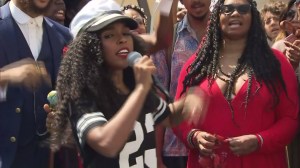 The event took place along the Walk of Fame at busy Hollywood Boulevard and Highland Avenue, and included a press conference, rally and short performance.
The parents of several people killed by police officers and deputies in Southern California were expected to join the musicians. Protesters held signs with pictures of those killed and details about their deaths.
Cornel West-founded Stop Mass Incarceration Network promoted the event on the organization's website and on Facebook. Event descriptions included the question: "Which side are you on?"
In recent weeks, Monáe and other artists on her Wondaland Records label have made appearances in New York, Philadelphia and Chicago, where they were joined Monday by the mother of Sandra Bland, the 28-year-old woman who was found hanging in a Texas jail after being stopped and violently arrested for failing to signal.
Bland's name is one of those featured in a protest song released last week by Monáe, along with the names of Michael Brown, Eric Garner, Freddie Gray, Trayvon Martin and Emmett Till, among others.
The 6 1/2-minute song, "Hell You Talmbout," consists largely of a variety of singers repeating the names of the victims of police violence, along with the phrase "say his name," or "say her name."
In an Instagram post last week, Monáe wrote that the song is a "vessel" that "carries the unbearable anguish of millions."
"Silence is our enemy. Sound is our weapon," she said.
On Friday, Monáe performed the son before protestors.
"We want this song to be used as a tool in all communities around the world," she said. "We are about unity, unification. We are about being on one said to end having to say anymore names. No more names."
Monáe and other Wondaland artists planned to perform in San Francisco on Sunday.