This is an archived article and the information in the article may be outdated. Please look at the time stamp on the story to see when it was last updated.
A proposal in California for a single-payer healthcare system would dramatically expand the state government's presence in medical care and slash the role of insurance companies.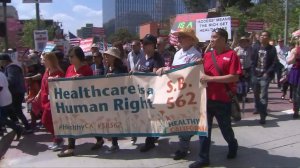 New amendments released Thursday fill in some key details on the universal healthcare measure proposed by state Sens. Ricardo Lara (D-Bell Gardens) and Toni Atkins (D-San Diego), although the biggest political question — how it would be paid for — remains unanswered.
Under the proposal, which was announced in February, the state would cover all medical expenses for every resident regardless of their income or immigration status, including inpatient, outpatient, emergency services, dental, vision, mental health and nursing home care.
Insurers would be prohibited from offering benefits that cover the same services as the state.
Click here to read the full story on LATimes.com.