This is an archived article and the information in the article may be outdated. Please look at the time stamp on the story to see when it was last updated.
At an emotional news conference announcing a $50,000 reward Friday, officials and family members pleaded for the public's help finding three men involved in a fatal attack on a transgender woman in Hollywood.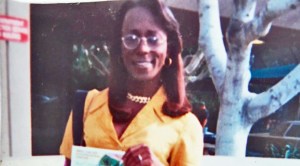 Aniya Parker, 47, was shot in the head early Oct. 2 after what police described as an attempted robbery on Melrose Avenue at Kenmore Street.
Though police said so far they're investigating the case as an attempted robbery gone wrong, advocates for the transgender community and Los Angeles City Councilman Mitch O'Farrell drew attention to the case in part because of Parker's identity.
"The transgender community is one of the most marginalized and discriminated against communities in all of society," O'Farrell said. "Aniya was our neighbor Aniya has family that loves and cares for her."
The manager of the Los Angeles LGBT Center's antiviolence project said it's "very possible" Parker was targeted because she was a transgender woman.
"None of us want to live in a city or in a world where we targeted just for who we are," said Christopher Argyros of the LGBT Center.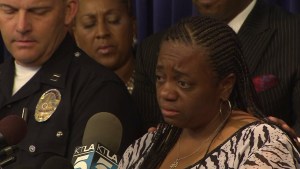 Surrounded by other family members, Parker's sister Adrian was overcome by tears when she stepped to the podium to speak at City Hall, where the news conference was held.
"I don't understand how you young people could do such a mean and cruel thing," said Adrian Parker. "We just want to know why. We didn't get a chance to say goodbye. … Our family is in deep emotional stress."
Aniya was close with Adrian and with family in Arkansas, she said. Aniya had been at Adrian's house before she was killed.
"Somebody that knows something … step up to the plate and do what's right," Adrian Parker said.
Police were looking for a witness who was with Aniya Parker shortly before she was killed, Capt. Brian Pratt of the Los Angeles Police Department's Rampart Station said.
That individual was not shown in surveillance video that has been released by police, but investigators were working to enhance images in an effort to identify the witness, Pratt said.
Aniya Parker was walking down the street when she was confronted by a group of three men, which resulted in a struggle over what appeared to be a purse, police said. Parker broke away, but one of the men followed her and shot her point-blank in the head.
She stumbled across the street and collapsed. She later died at Los Angeles County-USC Medical Center.
It appeared to be a "random" robbery gone wrong, Pratt said. If the investigation shows that Parker's identity prompted the attack, that information would be presented to prosecutors, Pratt said.
Police were looking for three Latino men between age 20 and 35, Pratt said.
A $50,000 reward was being offered for information leading to the identity, arrest and prosecution of the person or persons responsible for the killing. Anyone with information was asked to call police at 800-222-8477.
 A Go Fund Me page has been set up to help Parker's family.