This is an archived article and the information in the article may be outdated. Please look at the time stamp on the story to see when it was last updated.
Rain showers continued to soak Southern California late into the night on Wednesday, one day after a record-setting Pacific storm prompted mudslides, flash-flood watches and evacuations in some areas.
The storm dumped 1.21 inches of rain in downtown Los Angeles on Tuesday, 1.04 inches in Long Beach, and 1.14 inches in Lancaster, eclipsing records set in 1961, according to the National Weather Service.
At Los Angeles International Airport, 1.12 inches of rainfall was measured, surpassing 1966's record total.
Another wave of rain was expected Wednesday evening into Thursday morning, with possible brief heavy downpours. Flash-flood watches were in effect for burn areas of L.A. and Ventura counties and for all of Orange and parts of Riverside and San Bernardino counties.
By Wednesday evening, all flash-flood watches had been canceled in all area except for some parts of the Antelope Valley and the San Gabriel Mountains.
In burn areas scorched by brush fires and left vulnerable to deluges, residents and local officials continued to prepare for the possibility of mudslides, though the days of rain had so far not left any major damage.
As much as inch of rain was expected to fall by Thursday morning in Silverado Canyon, the Orange County community where three-quarters of an inch of precipitation was recorded in a single hour on Tuesday, according to the weather service. Overall, the weather service reported 2.5 inches of rain fell in the canyon area as of Wednesday evening.
About 1,000 acres were burned in the area during September's Silverado Fire, leaving some 60 residents in four dozen homes in the pathway of a potential mudslide, fire officials said.
A voluntary evacuation order, which had been in place in the area since Tuesday, was later lifted.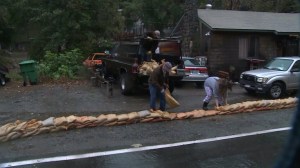 "I know it's an inconvenience for the residents, but … we have to keep them safe," Capt. Steve Concialdi of the Orange County Fire Authority said Wednesday morning.
"These mud and debris flows are devastating," he said, adding that the county Public Works department was monitoring roadways and removing even the smallest of obstructions caused by the rain.
Similar concerns were on the minds of homeowners in Glendora, where the 2,000-acre Colby Fire blackened the San Gabriel Mountain foothills on the city's north side.
K-rail barriers remained in place in front of houses below the rain-soaked hills. Meanwhile, work crews used shovels to remove mud from a large open drain, in an effort to ensure efficacy of a flood-control system.
A voluntary evacuation order remained in effect for those living in the burn area — a circumstance that is likely to recur during future rainstorms.
Asked if she was frustrated by that reality, resident Colleen Wittenberg replied: "No, it's OK. It's not impacting me. I think as long as people are safe in their homes … that's what we have to do."
Municipal engineers were being sent to assess the stability of the hillsides, according to a city spokeswoman.
KTLA's Melissa Pamer contributed to this article.
More Video:
A #subtropical weather disturbance for southern California tonight with unstable conditions for local heavy #rain #ca pic.twitter.com/87kS71P4Dk

— NWS San Diego (@NWSSanDiego) December 4, 2014