This is an archived article and the information in the article may be outdated. Please look at the time stamp on the story to see when it was last updated.
ARLETA, Calif. (KTLA) — Police on Wednesday released two sketches of a man suspected of fatally shooting another motorist in a road-rage incident in Arleta.
It happened on Saturday, July 13, just after 3 p.m. as the two cars passed under the 5 Freeway at Branford Avenue, police said.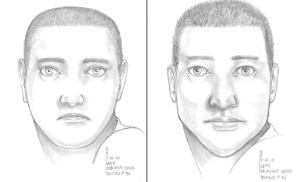 The driver of a gray Dodge Challenger fired a single shot as he passed a red Kia, according to witnesses.
The driver of the Kia, Richard Eduardo Ruiz, 22, of North Hollywood, was hit and died hours later at a local hospital. Two passengers were uninjured.
The two sketches are based on descriptions given to an artist by the passengers, said Lt. Paul Vernon, commanding officer of the Mission Detective Division.
"The sketches depict the wanted shooter who is in his early 20s, with distinctly green eyes," Vernon said.
Detectives have received several tips on the Dodge Challenger, which was described an RT model with custom rims.
They released the sketches in hopes that someone might recognize the alleged gunman.
Anyone with information is urged to call Detective Ryan Verna, Mission Homicide Unit, at (818) 838-9976.
Anonymous tips can be called into Crimestoppers at 800-222-TIPS (8477), or they can be placed online at www.LAPDOnline.org.