This is an archived article and the information in the article may be outdated. Please look at the time stamp on the story to see when it was last updated.
A Cerritos man whose Skid Row drug-selling operation with another dealer consisted of $1.6 million in cash and more than 15 pounds of cocaine was sentenced to 11 years in prison on Monday, the Los Angeles County District Attorney's Office said.
Derrick Turner, 49, was arrested in April 2016 for a drug-dealing operation that prosecutors say preyed on the vulnerable homeless population of Skid Row.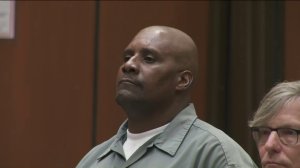 A wiretap investigation in that historically impoverished district of downtown L.A., headed by the D.A.'s office and LAPD, led to a drug-selling network controlled by Turner and another now-convicted dealer in Cerritos, Bernard McAdoo, according to prosecutors.
"What we did was we rolled up on those individual sales people [and] suppliers and were able to eventually lead us to Mr. Turner," Ryan Dibble, deputy DA, said.
One element of the crime, Dibble said, made it clear that Turner's operation largely sold to L.A.'s homeless — the discovery of $600,000 in $1 bills at a "stash pad" shared by him and co-defendant McAdoo.
"That was a piece of evidence that really struck a chord," Dibble said. "Because the $1 bills, we presume, were coming from homeless people that were using money that was passed to them in the street to feed their drug addiction."
Along with the $1 bills, investigators found numerous firearms, $1.6 million in cash and seven kilograms (or about 15 and a half pounds) of cocaine at the shared Cerritos residence, prosecutors said.
Another "stash pad" of Turner's in Cerritos that wasn't shared with McAdoo contained less than one kilogram of cocaine and a loaded handgun, Dibble said.
Turner's attorney argued in court that he was not the mastermind behind the massive drug sales, which also involved a dealer who was convicted to 13 years in prison last month.
He also said Turner had been mischaracterized by media outlets as a drug kingpin.
"In fact, Mr. Turner was not the lead person in this case," Dan Chambers, Turner's attorney, said in court. "The large amount of cash that was found, not withstanding the way the media reported it, was not found at Mr. Turner's house. It was found somewhere else."
Turner, who has been described by authorities as a known gang member, will be eligible for parole after serving 80 percent of his 11-year sentence, prosecutors said. He previously admitted to a felony from 2008, according to Dibble.
Correction: This article was updated to accurately reflect information about Turner's residence.